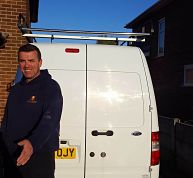 Handyman Services
Smart Home Maintenance offers handyman services in Liverpool.   I specialise in exterior home maintenance and light plumbing.  
   The handyman services that I am best at I are shown below.  If the job you want doing is not listed please just ask, I'm sure I'll be able to help you or give some advice.  
I aim to keep all customers happy, and to make your home smart and secure so that you can
relax and enjoy it.
The photo is an example of a new fence I installed for a customer of mine.
Exterior Services
 

Gutter Cleaning

Gutter replacements – facias and sofits

New Fences

Fence Repairs

Drainage Repairs

Gate repairs

Paving

Exterior Painting
Contact me instantly, tell me how I can help you...